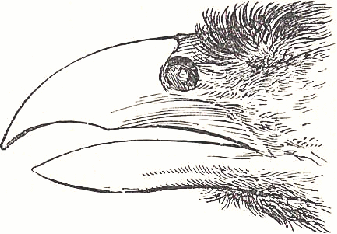 Brush Turkey Picture
Brush Turkey
The Australian name for one of the largest of the MEGAPODES, Alectura lathami, which has frequently made its mound, laid its eggs, and reared its young in the London Zoological Gardens, after the manner described many years ago by Mr. Bartlet (Proceedings of the Zoological Society of London. 1860, pp. 426,427). In earlier days the position of this bird was a great puzzle to some ornithologists, who thought from the form of its bill that it was a Bird-of-Prey, and called it the "New-Holland Vulture".


Budgerigar
A corruption of Betcherrygah, given by Gould as the native name of the pretty little Australian PARRAKEET, Melopsittacus undulatus, that is now so favourite a cage-bird. Its name was still further corrupted in the 19th Century into Beauregard!


Bufflehead
A North-American species of Duck, the Bucephala albeola. This relatively small duck is bird is part of the genus Bucephala, (Goldeneye). The name Bufflehead comes from a shortening of "buffalo head". Adult males Buffleheads are have a white body with a black top-of-the-back. Their head is black with around the eye and beak but with a large white cap behind the eye. The body of adult females is mainly brown body, with a brown head. Like the males they also bave a white patch behind their eye, but the size of this white patch is smaller than in the males..