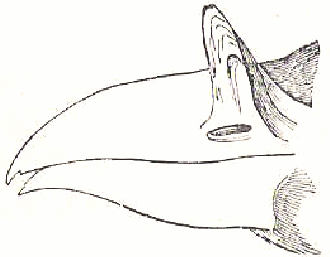 Picture of bill of the Horn Billed Auk
Auk (Teutonic Alk)
The old English name for the Razorbill, and also the Guillimot, of modern ornithologists, the Auk is now a collective name for members of the Family Alcidae. The Great Auk is also known as the Gare-Fowl, and the Little Auk is well-known to Arctic seamen as the Rotche. The greatest number of forms belonging to this Family inhabit the North Pacific, and have been separate into various genera. Some of them exhibit the seasonal shedding of the outgrowths on the sheath of the bill and on the head that, as in the Puffin, are only assumed in spring. Among them is the curious Rhinoceros Auklet (Cerorhyncha (or Ceratorhina) monocerata) also known as the Horn Billed Auk or Unicorn Auk, which by shedding the horn-like protuberance rising between the nostrils, and here illustrated, led to no few mistakes until the peculiarity was known.


Avaduvat
A corruption of Amadavat.


Avis
The ordinary Latin word for Bird, and in its plural form, Aves, the scientific name of the Class of Vertebrate Animals which comprises every kind of Bird. The want of an adjective derived from Avis and Bird was, in the 19th Century, one much felt both in Latin and English (Aviarius exists as a Latin adjective, but its precise meaning is somewhat indefinite, and its use can hardly be recommended). In English, remedy was considered hopeless, for bird-like is not enough, and "birdy" could only be regarded as jocular. From Latin, an attempt was made to fix this defect by the invention and use by some writers of "avian" - a form which scholars declared to be unclassical, though they allowed that "avine" might perhaps be admitted. Of Greek origin "ornithic" was considered quite justifiable. In modern times, the word avian seems to have won out among all of these suggestions.